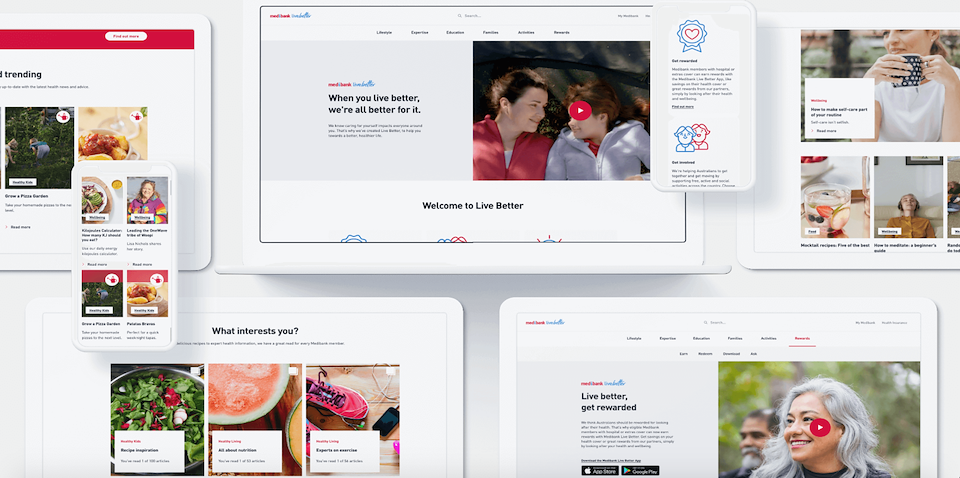 Medibank: Live Better
In 2020 and beyond, Live Better is Medibank's primary go-to-market proposition. What started as humble beginnings five years ago, is now the unifying, singular big idea from which all communications stems.
Originally titled be. magazine, Medibank's custom publication was an existing asset with loads of potential. Packed with health and lifestyle content, a small distribution in print and a simple blog, B.B.E saw the potential to use strategy and creative to re-think how be. magazine could become a powerful customer and member engagement acquisition tool. We got to work developing the product and proposition, and building out distribution tactics such as segmented email.
After two years of the above, the Live Better brand was coming together. The brand had been used through the eDM program, and it was now time to roll it out to all properties. In parallel, B.B.E drove a full marketing technology transformation to consolidate disparate platforms, and connect everything through to Salesforce Marketing Cloud among other technologies. It became the backbone of marketing automation for Medibank, helping us engage with millions of Australians every month, on-platform, through email, in social and in cafes.
Every second person who joined Medibank had previously engaged with Live Better – it had become an incredibly powerful product, so we continued to refine the technology and expand the proposition beyond its current properties. We evolved the Live Better brand, developing a living digital and video content style guide which would become the go-to resource for internal teams and other partner agencies.
But most importantly we developed a sub-proposition to help counterbalance the trend that Australia was becoming less and less healthy. Free + Active was a promise to get 1.5 million Australians active in body, community and mind by 2022. It then transformed into the real-world activation of Live Better and ultimately what led Medibank to take Live Better above the line, to all consumers.
In parallel to the previous two years of work on Live Better, a small team at Medibank was working on a loyalty program to help promote healthy behaviour, and reduce members' premiums. B.B.E was asked to define how to bring the proposition to market, and due to the work we'd already done, it was simple to develop and simple to sell in: Eat, Move and Feel — with the Live Better app. There are now six components which make up the Live Better program, including Live Better free activities, Live Better magazine, Live Better hub, Live Better news, Live Better school and Live Better rewards.
Live Better is now Medibank. And Medibank is Live Better. A proposition which started in a pocket of marketing innovation now drives perception, preference and conversion.